The Big Move: From Crib to Bed
Introduction
For children, the big move from a crib to a bed is both exciting and unsettling. Exciting because of the new freedom it comes with. Unsettling because that's a toddler's natural reaction to pretty much any kind of change.
It is not recommended that this new phase is entered into before a child turns 2. This is because below 2, children are usually not emotionally and developmentally prepared to cope with the changes which accompany the transition. Hence most times, toddlers make the move between the age of 2 and 3 ½.
Ready to move?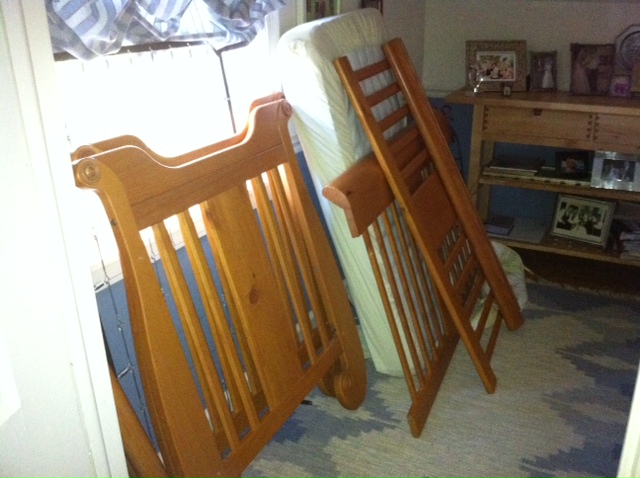 Beyond age, you'll know your child is ready to move when:
He has outgrown his crib.
He is potty trained and needs easy access to the toilet at night.
He can conveniently climb in and out of the crib (most times the rail is now at his chest level).
He has a new sibling on the way.                                                                                                                                                                                             *It is recommended that even if the signs are there, the move be delayed if your child is presently going through a period of stress or change. Also, if a new baby is on the way, ensure the move is at least 2 months before the actual baby arrival so that your toddler does not see his sibling as an intruder who has come to steal his spot.
Bed Options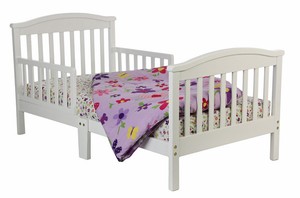 These are small, low, playfully designed child sized beds with guardrails for protection from falls. They are significantly longer than cribs but shorter than twin beds.
These are regular child sized beds made up a box spring and mattress.
These are mattresses laid out on the floor as a safe proof precautionary measure against fall outs.
Settling-in tips
Before the actual move to a big bed, find creative ways of introducing the subject to your toddler in order to get him excited. For example point out older friends and siblings who have made similar moves, emphasizing that they are now big kids. Or you could read books about the subject matter with him.
Involve your child in packing up the crib so that he doesn't see it as an option to return to.
Get your child excited about the move by involving him in picking out a new bed and its accessories. Endeavour to make the bed cozy and appealing by, for example, letting him pick out beddings which depict his favourite cartoon character.
Set up the bed in the same spot where his crib used to be so that a feel of familiarity is maintained.
Celebrate the impending move as something big and exciting, letting him know he's now a big boy.
On the big night, make bedtime earlier because he may need extra time to settle down.
Be sure not to throw away his familiar bedtime routine.
Note that on the first few nights, to address any concerns your child happens to have, you may have to sit in with him for a while before gradually retreating away. When you do so, find a balance between being firm and being understanding of his fears so that staying back with him doesn't become a habit. Also be sure to keep it boring so that the night  doesn't stretch out unnecessarily.
Avoid letting your child use high level activity toys to settle in so that they don't become distractions. Instead, go for bedtime books or familiar soft, cuddly  toys which he finds reassuring.
Safety concerns
Since your child will now have unrestricted movement around the room, ensure to check every nook and cranny for potential hazards.
At this stage, top bunk beds are not safe because your child could roll off. Likewise, the lower bunks are also unsafe due to the possible temptation to climb to the top bunk.
Since children are prone to rolling, you can start by placing the mattress on the floor if you don't have a bed with guardrails or protective bed frames.
Be sure there is no risk of any of his body parts getting stuck between the wall and the bed.
If the bed has no bed rails, make room for safe landings by stacking soft objects on the floor, next to the bed.
To soothe your child and help him move around if he gets up in the night, you may want to leave a night light on in the room and a soft light on in the passage.
(Source: Women and children's health network, just the facts baby, better health, ahaparenting. Pictiure courtesy: pinterest, thegoldengleam, wiredmomma.com, ebay.com, gettyimages, 5jv.net, designmom.com)