HAVE YOU EVER GOTTEN TIRED OF THE POTTY?
I remember those long, tiring months when I was still trying to get my toddler potty trained. I just couldn't wait to see that first drop of poop or pee hit the potty. It was mostly all I could ever think of.
Well eventually, after the long wait, I eventually had a dirty potty in my hands and goodness, I was definitely one, very excited mama.
However, now that my toddler has become the potty expert that she is, there is definitely nothing exciting or compelling about a dirty potty. I've been guilty of trying to get her ditch her potty for the toilet so that I don't have to go through the whole potty 'emptying', 'washing' and 'disinfecting' afterwards. But my toddler is still very much attached to her beloved potty. So right now, the toilet is hardly ever an option.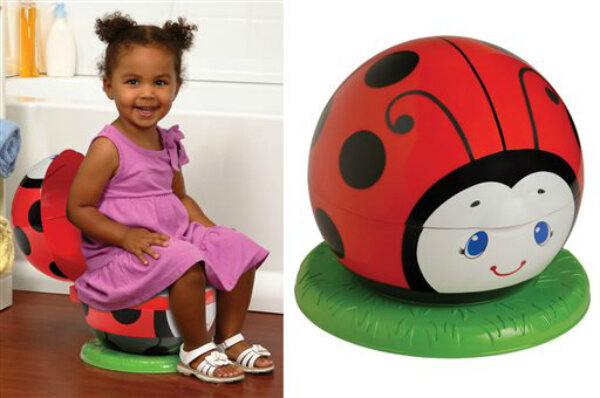 What I've found most challenging about the potty are those times when she poops and then just after I have gone through the whole process of cleaning up, she says she is ready for another poop. I'm like 'Goodness! After sitting there all that time! Why didn't you get it all out at once?'
Or now that she is at the DIY stage of life, as soon as she is done using the potty, rather than calling me for a clean up, she tries cleaning her bum herself. Then she hurriedly picks up the potty and immediately tries to empty it in the toilet herself. There were times when she actually tried washing the potty herself. Though I applaud her willingness to help mommy out, I'm still too scared that she will mess up the whole place and in the process give me more work to do. So most times, I never really go far once she is using the potty so that I can be there to supervise her every move.
Now, considering that due to my own fault, my daughter is not properly trained for the long hours of the night, there have been days when I have been guilty of actually encouraging her to just pee in her diaper because I just couldn't bear getting her out of bed again for another potty protocol. Come on, not after we have just gone through the rigors of the whole night bath and bed time routine! Besides why didn't she request for this pee before she got into bed?
To support my actions, I sometimes convinced myself that she was only saying that she wanted to pee because she wanted to get out of bed. But really, how could I be absolutely sure about that? So at night, what I then did was offer her that one last chance to pee just before getting into bed. That way I am certain she is good for the night and any potty request coming from her is actually just a ploy.
To be honest, I am eagerly waiting for when she will make that final switch from 'potty' to 'toilet'. It's not like she can't use the toilet, she is simply much more at home on her potty. So until she is ready for the switch, I have decided to stay hygienically committed to the whole potty routine. I use the word 'hygienically' committed because there have also been those long, tiring days when I have been tempted to just give the potty a rinse rather than a proper wash using soap and disinfectant. But good enough, guilt and fear of germs haven't allowed me give in to this rather inviting temptation.
So what am I trying to say with all this? The work of a mom is really just an ongoing process that never ends. Whenever your child gains a new level of independence; maybe learning to walk or perhaps using his potty; you're excited about getting a little more freedom. But with time you realize that at every stage, your role as supervisor can never really be said to be over. You always have your work cut out for you. So rather than complaining and getting tired, make sure you enjoy whatever stage your child is at. Mind you, enjoying it doesn't stop you from looking forward to and working towards the next level of independence coming your way soon.
Now tell me moms…Have you ever gotten tired of the potty? Or perhaps snuck on a diaper for your child who is in the middle of potty training just so you don't have to deal with 'accidents' and dirty potties? Do share with us!
For tips on potty training, please visit http://mommymomentsng.com/potty-training/
Image courtesy: www.blackgirlhealth.com, mybrownbaby.com, www.shutterstock.com, www.csmonitor.com, longlocs.blogspot.com